The best way to protect your Magento webstore against malware
Hackers get smarter over time. Outsmart them with eComscan.
Detected suspicious activity?
Your Google Ads were suspended?
Customers reported stolen credit cards?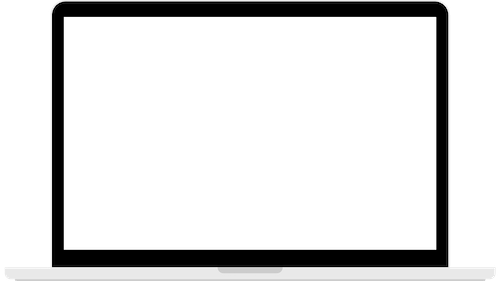 Sansec is a proud Adobe partner.
Trusted by 7000+ global brands and
leading Magento ecommerce agencies.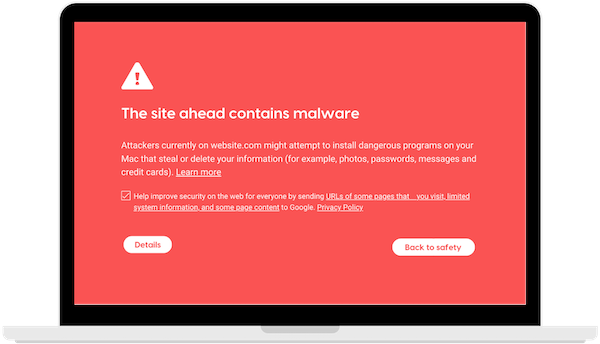 eComscan: an automated security scanner that keeps your ecommerce webstore safe from attackers.
Never worry about malware again.
Find root cause
Many merchants fail to find the root cause of hacks and consequently get reinfected. eComscan saves your time!
Prevent costly store downtime
Your store might be taken down by hackers or marked as harmful by browsers. eComscan prevents this!
Keep your online ads up
Your ad campaigns will be suspended when Google or Facebook detects malware on your store.
Secure your reputation
Data leaks and credit card fraud will seriously harm your online reputation.
Ensure compliance
Your bank or PSP demands PCI compliance. Server-side malware scanning is an important measure.
Prevent PII data leaks
eComscan detects malicious activity in an early stage, so you can limit or prevent the fallout from a data leak.
One in five webstores gets hacked every year
Booking.com hit with €475,000 GDPR fine for late reporting
Credit card information stolen from seniors in data breach of commencement attire vendor
US water filter supplier pays $200,000 to settle credit card data leak lawsuit
Don't end up in the news for the wrong reason. eComscan got you covered.
Get started with eComscan in 3 easy steps
1. Install eComscan in a few minutes
If you are hacked, there is no time to lose! Install eComscan in a few minutes and get insight into your situation quickly. This is vital for a speedy recovery and - possibly - a compliance report
What do you need?
A webstore running Magento 1, Magento 2, Shopware or WooCommerce.

SSH Access to the store.

A valid eComscan licence key.
2. Run eComscan to detect vulnerabilities and malware
eComscan sends you a detailed report and unveils exactly where the malware is located so that you can take easy steps to find hidden vulnerabilities.
What to do when an issue is found?
eComscan will show exactly where malware was found, and offer actionable remediation steps. View a sample report here.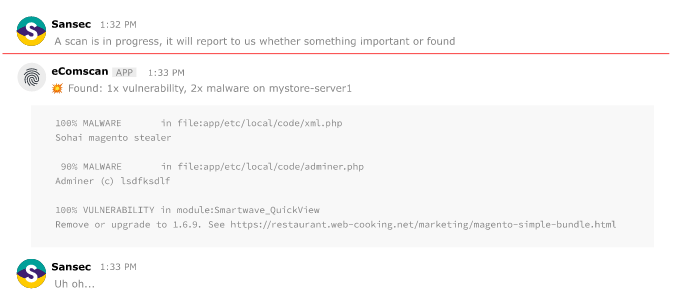 3. Continuous security: integrate eComscan into your workflow
Once the malware is removed and vulnerabilities are solved, you should set up continuous visibility in your store's security status.
Activate your team with Slack alerts
In case of malicious activity or critical vulnerabilities, alert your team using our Slack integration.
Self-updates
eComscan updates itself so that it is always up to date and scans the latest malware.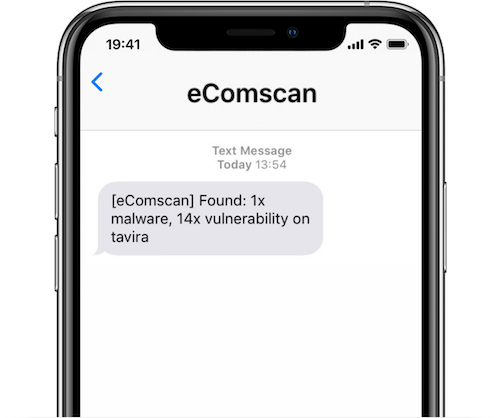 Awesome! Your solution really works. For example, today we were alerted on an M1 website of a harmful malware and we removed it right away.
— a US agency using Magento and eComscan
Try eComscan risk-free
and secure your store today
An eCommerce hack typically incurs $50,000 to $2,000,000 of damages in fines, investigation costs and reputation recovery. For multinational stores, this figure can be even higher. Annually, about 1 in 5 stores are affected by malware. eComscan delivers a rock-solid ROI!
Secure
Advanced
Enterprise 50
Enterprise 100
Enterprise 200
Magecart & skimming detection
Magento 1, Shopware, WooCommerce
Analysis & cleanup
with 6—month commitment
—
—
Store domains per install
< 5
< 10
no limit
no limit
no limit
Separate stores per install
1
1
1
1
no limit
Revenue limit
< € 5M
< € 20M
< € 50M
< € 100M
< € 200M
Monthly
€ 99
€ 199
€ 499
€ 799
€ 999
Not satisfied with eComscan in your first month?
Get your money back in 30 days.
Frequently asked questions
Why is eComscan the most advanced malware solution?
To stay ahead of hackers, you need data — lots of it. Sansec has been specializing in eCommerce security since 2015 and analyzes hundreds of hacked stores per week. So we have the absolute best visibility in emerging attack methods, and you can profit from it. Whenever we discover something new, a detection or fix is instantly distributed to all our customers. But don't take our word for it — our technology is used by Adobe/Magento and law enforcement agencies around the globe.
How can I get my money back if I do not like your product?
We take pride in delivering quality, that is why we offer a 30-day money-back guarantee. Are you somehow dissatisfied? No questions asked, we will refund you right away.
How can I install eComscan?
Typically, your dev team or hosting provider can install eComscan in a few minutes, see instructions here.
Have another question? Contact us to discuss your specific situation and get tailored advice.